Change Management Assessment Tools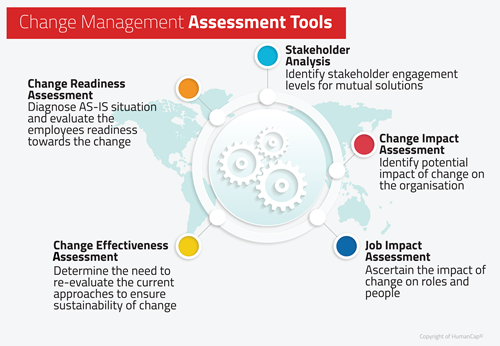 We offer a wide range of assessment tools that can be tailored to suit the needs of your organization. There will be specific assessment tools and key deliverables for each of the HumanCap stages of Change Management as below:
Stakeholder Analysis
This analysis is conducted to be able to identify stakeholder engagement levels by explicitly considering stakeholders interests, identifying and dealing with their concerns and considering the potential for mutual solution.
Readiness Assessment Tools
Change Readiness Assessment (CRA)
CRA is a useful tool in order to diagnose the current situation and evaluate the level of preparedness of your employees, attitude, and resources at all impacted levels. The greater the complexity of the proposed change, the greater the importance of understanding whether there is readiness and acceptance for change as this can be critical for deciding whether it is necessary to intervene. When implemented correctly and thoroughly, CRA can provide a glimpse on the unique characteristics of an organization, making change management either convenient or challenging.
Lack of readiness is not always because people are resisting change, in fact, the lack of readiness can be due to other factors such as behavioural momentum, causal ambiguity, confusion and perception that infrastructure is not ready, sense of insecurity and quite often, simply not knowing what should be done.
Impact Assessment Tools
The 3 key Impact Assessment tools that would be applicable are as follows:
1. Change Impact Assessment (CIA) – capture people impacts arising from the change being introduced
2. Job Impact Assessment (JIA) – capture impacts to the jobs (people in the organisation) arising from the change being introduced
Effectiveness Assessment Tools
Change Effectiveness Assessment
This assessment tool will be required at the end phase of the change cycle when the need to re-assess the various assessments implemented – CIA, OIA, JIA that was applied previously as well as the potential review of the various approach plans to ensure the consistent and sustainability of the change is implemented.