HR Corporate Services Assessment Tools
Our three main core HR tools are as follows:-
1.HR Audit Assessment Tool
2.Employee Engagement Survey Assessment Tool
3.Other HR Tools
These assessments are crucial to outline your organisation's roadmap for improvement, as well as address and prevent any potential legal claims.
HR Audit Assessment Tool Overview
A human resources (HR) audit is a review of an organisation's formal and informal procedures, as well as the employer's documents, policies and daily practices . The audit provides valuable information regarding your employment systems, with the following benefits: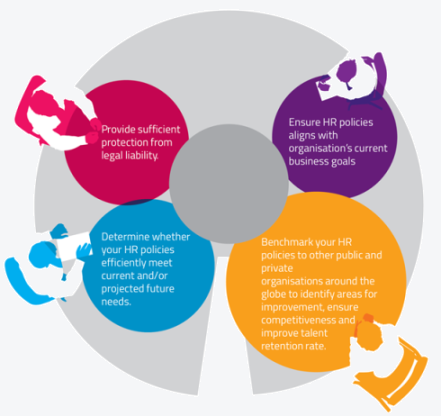 In short, HR Audit pinpoints opportunities, risks and potential problem areas in your organisation's HR management.

HR Audit Features
HR Audit looks into specific HR functions to identify opportunities and determine whether the policies meet the business needs of the organisation. The audit will look into: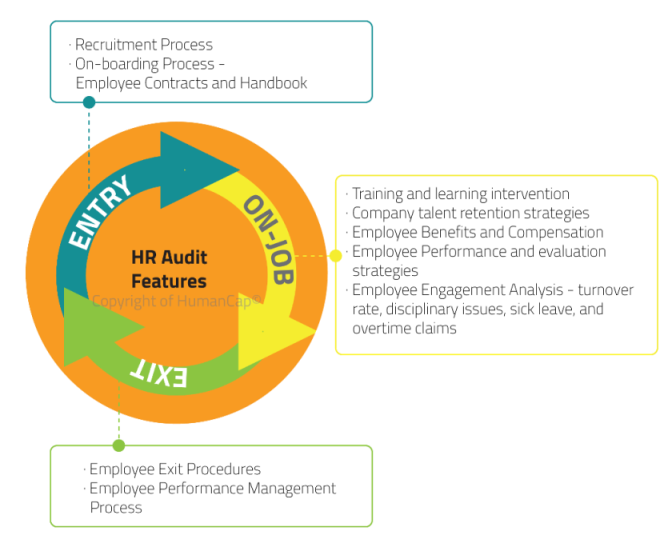 An HR Audit report across these respective areas provides an exclusive and comprehensive understanding into the human resources management at your organisation. Information gathered from the report acts as a vital guide on our analysis and forms the bases for HR Consultancy Service.
Employee Engagement Survey Assessment Tool Overview
Employee engagement is an important driver of organisational success. Employees that are engaged with their work are more innovative, more productive, more motivated to create satisfied and loyal customers, and will continuously improve your business. Our Employee Engagement Survey aims to assess employee engagement, identify successes as well as key areas of improvement.
Employee Engagement Survey Features
Having a workforce that is highly engaged is highly critical to business success in a competitive global environment. HumanCap consultants come in to allow you to devote your time, energy, and focus on your main business ordeal, while our group of skilled professionals give our topmost commitment for the conduct and analysis of the employee engagement survey.
The Employee Engagement Survey includes the following features:
Engagement with the organisation. This measures employees' confidence in your organisational leadership, their understanding of the organisation's strategic goals, and their understanding on how their work contributes to the organisation success. It also measures their satisfaction with job environment and passion about the job.
Engagement with the manager. This specifically measures how employees feel about their superior. Topics include feeling valued, being treated fairly, receiving feedback and direction, and generally, having a strong working relationship between employee and manager based on mutual respect. This component also tells whether managers display the required skills and behaviours to their subordinates.
The following is a list of features that the Employee Engagement Survey features:

Other HR Tools