Leadership Assessment Tools
HumanCap's 360° Leadership Assessment Overview
Improvement begins with awareness and acknowledgement of strengths and weaknesses. It is imperative for any organisation to be able to measure their leadership performance for the sustainability of their success. HumanCap's 360°Leadership Assessment provides leaders with definitive feedback from multi-dimensions and the organisation with a gauge of the effectiveness of their leadership team.
Developed internally together with local HR Practitioners and Industry Experts with international experience, HumanCap has spent years in research and development, working closely with our clients to deliver a comprehensive assessment tool. This multi-dimensional feedback tool can be used to effectively provide a holistic view of leaders' development needs, growth and performance. This assessment tool has also been proven to be useful as the basis of talent pool selection for organisations' succession planning.
An individual's report across these competencies provides a distinctive and comprehensive understanding into his/her leadership behaviour from the perspectives of those that he/she interacts with. The multi-dimension perspectives will provide critical information and act as a vital guide when analysing and planning for targeted trainings and development interventions. We have also found that individuals have found the compiled insights have become a strong initiator and motivator for change in leadership behaviour.
The following is a list of features that the HumanCap's 360°Leadership Assessment offers:-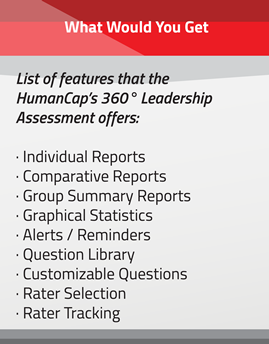 Personality Assessment
Personality Assessment Overview
Personality assessment has been used as a job fit assessment tool. The assessment measures the degree to which your employees' various traits needed for the job co-relates to the probability of success in the position, assuming sufficient education and experience. The assessment scores also denote employees' fit with respective positions, identifies job-specific strengths as well as gaps, and employee behaviour.
Personality assessment tools have also been known to benefit individuals in understanding their traits to leverage strengths in advancing self into areas that they are best at, and understanding gaps to define improvement areas and ability to leverage strengths of others. Personality assessment tools would also increase the awareness of individuals relationships within teams and how best to work together.
What We Offer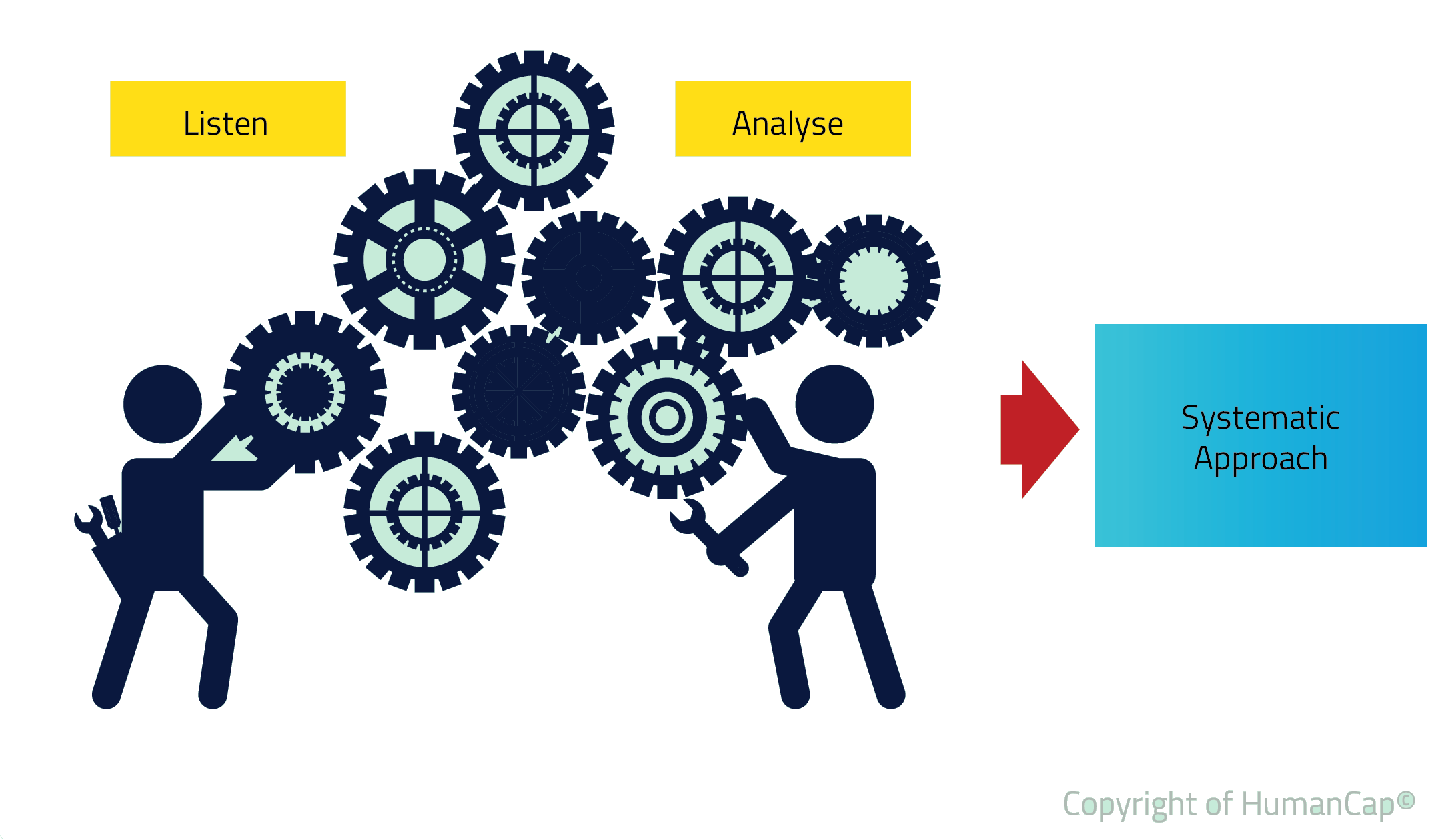 Our approach has always been to start by listening, we analyse and we share a systematic approach to achieve your organisation's objectives. How we will further add value to implementing the assessment includes:
Consultants that have international experience with local expertise in building customised assessments that will meet your assessment goals, as well as align these goals with your organisation's strategy, values and culture.
Assessment tool that supports multiple assessment options allowing the gathering of evidence to confirm or challenge the findings from other assessments.
Computerized personality assessment paired together with HumanCap 360° Leadership Assessment giving you an holistic assessment that reflects employees' performance from other employees' perspectives, as well as individual's self-perception on own performance.
Guaranteed confidentiality and anonymity for all users with protection against inappropriate data usage.
User friendly report structure that is easy-to-interpret, with the convenience of side-by-side comparison of the results of multiple candidates (even though different work scope).
Consultation to transform your assessment data into actionable and meaningful development programs for improvement, growth and change.
These assessments will provide a basis for development interventions, rewards, recognition and promotions, as well as make present a pool of talent for succession planning purposes.
Relevant Areas of Application for HumanCap's Assessment Tools