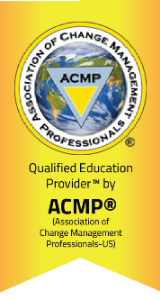 Signifying our long-standing commitment in the field of Change Management, HumanCap is proud to share our next milestone - we have recently obtained the Qualified Education Provider™ (QEP™) status from the Association of Change Management Professionals® (ACMP®) for our Change Management Certification Programme.
Some of the key endorsement benefits on being recognised as a QEP™ with ACMP®:
The QEP™ status demonstrates:
Our Change Management strategic alignment with ACMP®'s Standard for Change Management© and Adult Education best practices. As it is a generally accepted approach to Change Management, aligning to the ACMP®'s Standard provides a solid base for change management education and knowledge.
Our programme also adheres to best practices in instructional design and delivery, ensuring our partners and clients gaining an opportunity to practically apply what they learn in our customised programme.
About ACMP®
The Association of Change Management Professionals® (ACMP®) is a professional membership association dedicated to advancing the discipline and profession of change management practices that support the success of individual and organisational change for the realisation of intended business results. ACMP® is a non-profit and tax-exempt organisation.
Launched in 2011, ACMP® membership sign-up has been explosive with 2000++ members worldwide. ACMP®'s virtual community connects HumanCap with thousands of change practitioners and service providers globally giving us direct access to information and best practices for managing change. One of ACMP®'s key activities is their largest Annual Global Change Management Conference which is recognized as the leading education and professional networking conference for change thought leaders and practitioners around the world for discovery and experience of new trends and best practices in change management.

Where can I find HumanCap Change Management Certification Programme?
Participants looking at enhancing and deepening their understanding of Change Management practices are able to now find HumanCap's customised Change Management Certification Programme under ACMP® Website registered under Course Code Q000158 Change Management Certification Programme.
Visit ACMP® Website, click on .

Key in the QEP ID : Q000158 and click on .